(Based on and used with permission from the wicker-man.com site which was written circa mid-2000s.)
They shot here on Oct 13, 1972.
Culzean Castle can be found some miles north of The Wicker Man's main filming locations. The castle can be found on the Ayrshire coast of Scotland and was used for mainly exterior shots of Lord Summerisle's castle.
The castle and its gardens are now maintained by the National Trust For Scotland. As well as the main building itself, some of the picturesque gardens can be seen during Howie's approach to his meeting with Lord Summerisle. In fact, upon visiting this site you may wonder why the producing team bothered to decamp to Port Logan Botanical Gardens for the filming of shots cut into this scene.
Although Summerisle's castle interiors were mainly filmed in Lochinch Castle, the dining room scene was filmed here at Culzean. The State Dining Room is decorated similarly as it was during The Wicker Man's filming. In fact, the cutlery holder from which Lord Summerisle removed a knife is still there today.
(Floorplan for diningroom and walk to experimental greenhouse)
The side of the castle overlooks the small island of Ailsa Craig, which can be seen briefly in the film.
Howie and Lord Summerisle walk outside from the dining room. (The red arrow in the aerial below this pic.) That short scene was at Culzean as well. They descend some stairs and go through a white-painted gate seen in this pic below. In the film that is supposed to lead to the experimental laboratory, a scene which never made it to the film although stills exist.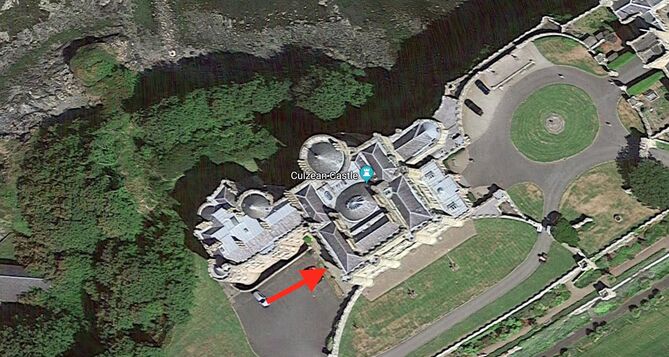 The owner of Isle Castle in Isle of Whithorn advised us that the spiral staircase that Howie looks at in the house search was actually filmed at Culzean Castle.
A deleted scene in which Howie visits the home of Holly Grimmond was also filmed in a house within Culzean's grounds. (See it on Googe Street View)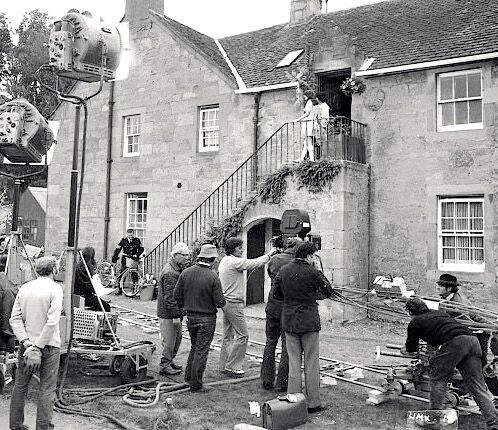 Admission to the gardens is a slightly steep £8 at the time of writing, with a further £4 charge for entry to the castle itself. However, members of the National Trust For Scotland can get in free. The opening times are between between 25st March to 31st October with the last admissions at 4pm. You should check their website for up do date information if you plan on visiting. http://www.nts.org.uk/Property/Culzean-Castle-and-Country-Park/t