(Based on and used with permission from the wicker-man.com site which was written circa mid-2000s.)
See also Andy Taylor's location footage from 2000.
Gatehouse Of Fleet is a small hamlet within Dumfries and Galloway.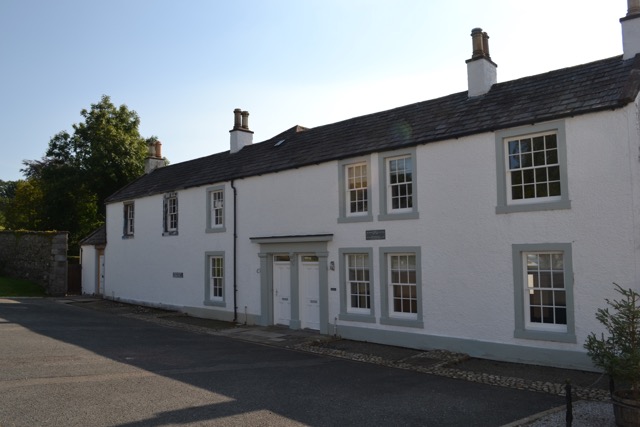 Of particular note to fans of The Wicker Man is the former Cally Estate offices which served as the front exterior of The Green Man inn.
The shots of Lord Summerisle presenting Ash to Willow, but not the others of Willow and Howie in that same scene, took place behind the offices on November 1, 1972...
Many believe that the rear windows of the Green Man (together with Willow's bedroom) were filmed at the back of the Cally offices. This would be a reasonable mistake to make as the building does have a familiar 'L' shape similar to what can seen in the film.
Upon closer inspection, however, the rear windows simply do not match what is seen in the the movie ( see pictures below.) As Willow's bedroom can be seen through the windows on screen, it has often been mistakenly thought that her bedroom interiors were filmed here also. To find out more about the real location of the Green Man rear and all the bedrooms ( including Willow's )
read our location report on the town of Whithorn.
The rear of 59 George St, Whithorn below.
The buildings opposite the offices can also be seen in the film when Howie asks Willow for directions to the town green as she washes tables in the morning sun. It is known as Roseville. The building next to it with the boarded up windows, used to be a brewery.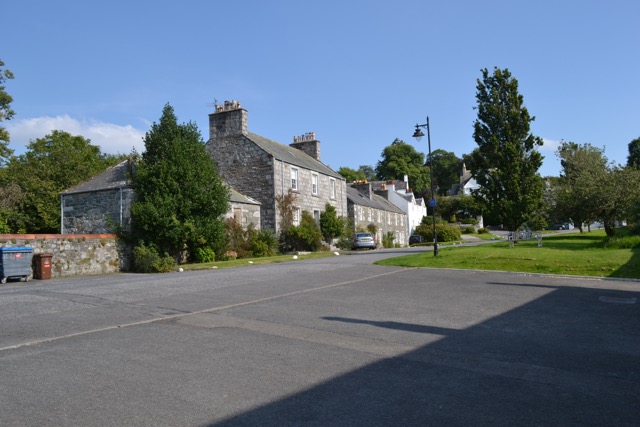 Further along the same road is the area where we briefly saw Sergeant Howie make his way towards the village alongside some very unusual skull shaped bollards! The bollards, which are extremely likely to have been props, can sadly not be seen today.
The crew parked near The Murray Arms Hotel on the corner of Ann St and High St. as well as The Annexe. The pub across the street from the Cally Offices, The Masonic Arms Inn, was probably used by the cast and crew.
On the High St in Gatehouse Of Fleet is Stark's Chemist shop. This building was used for interiors of Lennox's chemist shop. The house immediately to the left of this shop is none other than Dr Ewan's house!
For further reading on Gatehouse Of Fleet itself, please visit http://www.gatehouse-of-fleet.co.uk