Used for Lord Summerisle's entrance hall and main room and the courtyard before the procession.
Lochinch Castle, Stair Estates Office, Sheuchan, Castle Kennedy, Stranraer, Dumfries & Galloway
(Floorplans for scenes shot there.)
The entrance hall. (Now, then)
The main room is actually an entrance hall as the rooms in the castle are so large. It is known as "the corridor." (Nuada #3, What the Butler Saw.)
Contrary to other reports, an area within this castle was also utilized for the scene in which the villagers gather in the walled courtyard to hear Lord Summerisle give his instructions for the May Day celebrations. However, Lochinch Castle itself is used as a private dwelling-place and is therefore not open to the public.
(The coat of arms seen in the castle, the pony and trap, the carts in the courtyard scene, the chair Lord Summerisle is sitting in when Howie arrives, all belonged to the Stair Estate. Nuada #3)
A map of the courtyard where Lord Summerisle addressed the crowd as Howie watched through a window.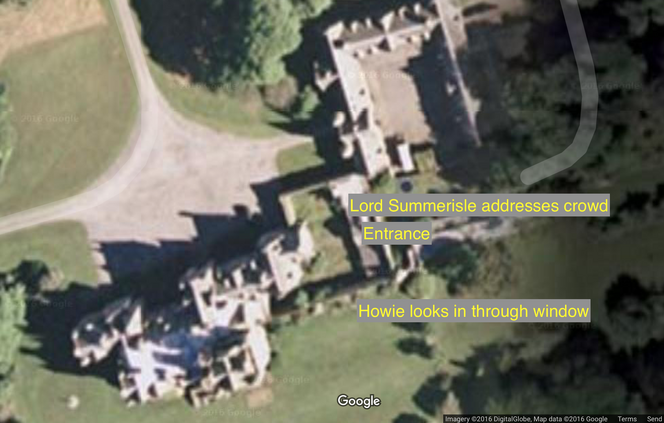 Inside the courtyard shots by David Sherlock, taken October 2016. The first shot pans from roughly here to the right.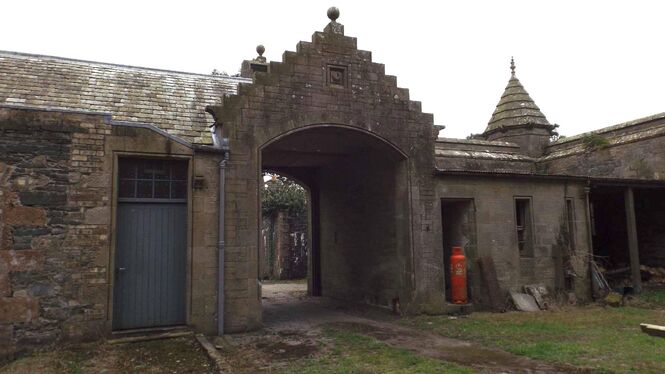 The camera panned to the right. The open shed on the left was not there when the movie was made.
Howie would be looking in the window in the middle here. A screenshot of that.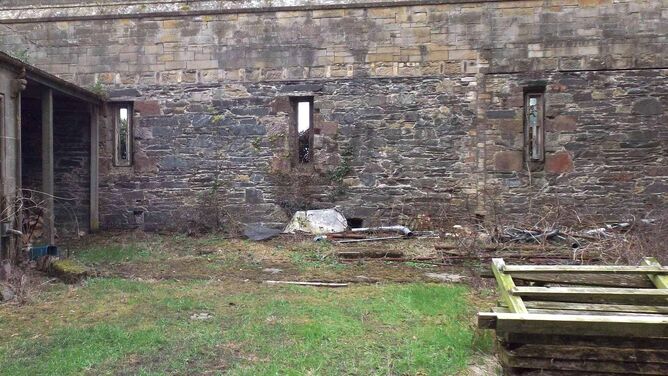 Lod Summerisle addressed the crowd here, which is to the left of the entrance we saw in the first interior shot. In the movie, there is a hanging criss-crossed wire barrier where the double wooden slat door is to the left.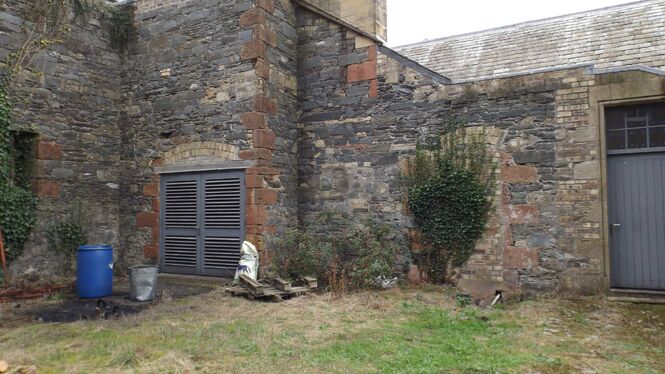 We would thoroughly recommend these picturesque gardens for a visit, regardless of their Wickerish connections. Admission is £4 for adults. The gardens are open from 10.00 until 17.00 daily, normally from Easter weekend or 1 April until the end of September.
For further information on the gardens, their official site can be found at http://www.castlekennedygardens.co.uk